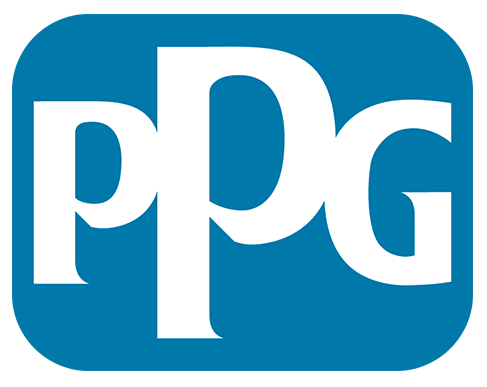 PPG was founded in 1883 as Pittsburgh Plate Glass by Captain John B. Ford and John Pitcairn in Pittsburgh, Pennsylvania. Today, PPG is a global supplier of paints, coatings, optical products, and specialty materials. PPG has operations in over 70 countries, including the United States where AeroCoat Source is an authorized PPG Aerospace distributor.
PPG Aerospace is a global leader in the development and supply of coatings products for the military aerospace segment of the industry. 
With the addition of the Deft® portfoliio in 2013, PPG has a full line of topcoats and primers needed for the industry supporting fighters, trainers, transport aircraft, and helicopters.  Our Advanced Performance Coatings have become the industry standard supporting nearly all platforms in the industry.  Our primer systems which include chrome-free products from both the PPG and Deft® portfolios continue to lead the industry by ensuring long-term integrity of airframe structures.
MFG PN#: 512X310

MFG: PPG Aerospace

Product Description: Chrome-Free Epoxy Primer

QTY in Stock: 50

Weight: 20 lbs

Color: Light Gray

Spec 1: BMS 10-103 Type I Grade A

Spec 2: DHMS C4.01 Type 3, Gr. A

Kitsize: 2 gallon kit

MFG PN#: 513X408B

MFG: PPG Aerospace

Product Description: Mil-Spec Epoxy Primer

QTY in Stock: 16

Weight: 14 lbs

Color: Yellow-Green

Spec 1: Mil-PRF-85582E, Type I, Class C2

Kitsize: 1 gallon kit

MFG PN#: 513X419

MFG: PPG Aerospace

Product Description: Mil-Spec Epoxy Primer

QTY in Stock: 8

Weight: 25 lbs

Color: Yellow

Spec 1: Mil-PRF-23377 Type I Class C2

Kitsize: 2 gallon kit

MFG PN#: 515-700

MFG: PPG Aerospace

Product Description: Fluid Resistant Epoxy Primer

QTY in Stock: 30

Weight: 22 lbs

Color: Green

Spec 1: STM0685-01

Spec 2: DMS 1786 Type I Comp D

Kitsize: 2 gallon kit

MFG PN#: 515K011

MFG: PPG Aerospace

Product Description: Fluid Resistant Epoxy Primer

QTY in Stock: 16

Weight: 22 lbs

Color: BAC 452

Spec 1: BMS 10-11AC, Type I, Cl A Gr A

Spec 2: BAMS 565-001, Type I Gr A

Kitsize: 2 gallon kit

MFG PN#: 515X333

MFG: PPG Aerospace

Product Description: Fluid Resistant Epoxy Primer

QTY in Stock: 8

Weight: 24 lbs

Color: Green

Spec 1: GM 5002A

Spec 2: 207-9-470

Spec 3: GMS 5001

Kitsize: 2 gallon kit

MFG PN#: 515X346B

MFG: PPG Aerospace

Product Description: High Tensile Strength Epoxy Bonding Primer

QTY in Stock: 20

Weight: 22 lbs

Color: Green

Spec 1: DeSoto Standard

Spec 2: MAP-CC10185

Kitsize: 2.25 gallon kit

MFG PN#: 515X349

MFG: PPG Aerospace

Product Description: High Solids Exterior Epoxy Primer

QTY in Stock: 100

Weight: 24 lbs

Color: Green

Spec 1: BMS 10-79 Type III Cl A Gr A

Spec 2: DMS 2144 Comp A

Kitsize: 2 gallon kit

MFG PN#: 519X303

MFG: PPG Aerospace

Product Description: High Temperature Epoxy Primer

QTY in Stock: 8

Weight: 18 lbs

Color: Aluminized Blue-Green

Spec 1: 299-947-167

Spec 2: MMS-425B

Spec 3: MMS-436

Kitsize: 6 quart kit

MFG PN#: 521X315

MFG: PPG Aerospace

Product Description: Fluid Resistant Epoxy Topcoat

QTY in Stock: 2

Weight: 22 lbs

Color: Untinted White

Spec 1: 207-9-472

Spec 2: GMS 5002

Kitsize: 1.5 gallon kit

MFG PN#: 8100B70846

MFG: PPG Aerospace

Product Description: Anti-Chafe, Teflon filled polyurethane topcoat

QTY in Stock: 24

Weight: 15 lbs

Color: BAC 70846 White

Spec 1: BMS 10-86, Type III

Spec 2: GMS 4201

Spec 3: MM 1261

Kitsize: 4 quart kit

MFG PN#: 8100B70846

MFG: PPG Aerospace

Product Description: Anti-Chafe, Teflon filled polyurethane topcoat

QTY in Stock: 6

Weight: 48 lbs

Color: BAC 70846 White

Spec 1: BMS 10-86, Type III

Spec 2: GMS 4201

Spec 3: MM 1261

Kitsize: 4 gallon kit

MFG PN#: 8100F17925

MFG: PPG Aerospace

Product Description: Anti-Chafe, Teflon filled polyurethane topcoat

QTY in Stock: 6

Weight: 48 lbs

Color: FS 17925 White

Spec 1: BMS 10-86 Type III, Grade D

Spec 2: GMS 4201

Spec 3: MS100032

Kitsize: 4 gallon kit

MFG PN#: 8110F36118

MFG: PPG Aerospace

Product Description: Anti-Chafe, Teflon filled polyurethane topcoat

QTY in Stock: 10

Weight: 14 lbs

Color: FS 36118 Gray

Spec 1: BMS 10-86 Type IV

Spec 2: PS 13555

Kitsize: 1 gallon kit

MFG PN#: 8110F36375

MFG: PPG Aerospace

Product Description: Anti-Chafe, Teflon filled polyurethane topcoat

QTY in Stock: 12

Weight: 14 lbs

Color: FS 36375 Gray

Spec 1: BMS 10-86 Type IV

Spec 2: PS 13555

Kitsize: 1 gallon kit

MFG PN#: 8201F11136

MFG: PPG Aerospace

Product Description: High Solids Polyurethane Topcoat

QTY in Stock: 8

Weight: 24 lbs

Color: FS 11136 Red

Spec 1: Mil-PRF-85285 Type I Class H

Spec 2: MMS-420

Kitsize: 2 gallon kit

MFG PN#: 8201F17925

MFG: PPG Aerospace

Product Description: Mil-Spec Polyurethane Topcoat

QTY in Stock: 80

Weight: 26 lbs

Color: FS 17925 White

Spec 1: Mil-PRF-85285 Type I Class H

Spec 2: Mil-PRF-85285 Type IV Class H

Spec 3: MMS-420

Spec 4: GP110AEF

Kitsize: 2 gallon kit

MFG PN#: 8211F36231

MFG: PPG Aerospace

Product Description: High Solids Polyurethane Topcoat

QTY in Stock: 12

Weight: 13 lbs

Color: FS 36231 Gray

Spec 1: Mil-PRF-85285 Type I Class H

Spec 2: MMS-420

Spec 3: DMS 2115

Kitsize: 1 gallon kit

MFG PN#: 8211F36320

MFG: PPG Aerospace

Product Description: High Solids Polyurethane Topcoat

QTY in Stock: 6

Weight: 13 lbs

Color: FS 36320 Gray

Spec 1: Mil-PRF-85285 Type I Class H

Spec 2: MMS-420

Spec 3: DMS 2115

Kitsize: 1 gallon kit

MFG PN#: 8211F36375

MFG: PPG Aerospace

Product Description: High Solids Polyurethane Topcoat

QTY in Stock: 20

Weight: 13 lbs

Color: FS 36375 Gray

Spec 1: Mil-PRF-85285 Type I Class H

Spec 2: MMS-420

Spec 3: DMS 2115

Kitsize: 1 gallon kit

MFG PN#: 8211F36440

MFG: PPG Aerospace

Product Description: High Solids Polyurethane Topcoat

QTY in Stock: 6

Weight: 13 lbs

Color: FS 36440 Gray

Spec 1: Mil-PRF-85285 Type I Class H

Spec 2: MMS-420

Spec 3: DMS 2115

Kitsize: 1 gallon kit

MFG PN#: 8211F37038

MFG: PPG Aerospace

Product Description: High Solids Polyurethane Topcoat

QTY in Stock: 60

Weight: 13 lbs

Color: FS 37038 Black

Spec 1: Mil-PRF-85285 Type I Class H

Spec 2: MMS-420

Kitsize: 1 gallon kit

MFG PN#: 823-011

MFG: PPG Aerospace

Product Description: Integral Fuel Tank Coating

QTY in Stock: 40

Weight: 24 lbs

Color: Yellow

Spec 1: AMS-C-27725 Type II

Spec 2: DMS 1850

Spec 3: Mil-C-27725 Type II

Spec 4: 207-9-440

Kitsize: 2.25 gallon kit

MFG PN#: 823-707

MFG: PPG Aerospace

Product Description: Integral Fuel Tank Coating

QTY in Stock: 150

Weight: 24 lbs

Color: Yellow

Spec 1: AMS-C-27725 Type II

Spec 2: BAMS 565-010, Grade A

Spec 3: DHMS C4.06 Type I

Kitsize: 2.25 gallon kit

MFG PN#: 825-009

MFG: PPG Aerospace

Product Description: High Temp Urethane Primer

QTY in Stock: 200

Weight: 23 lbs

Color: Aluminized Green

Spec 1: BAC 5710, Type 51

Spec 2: BAMS 565-013

Spec 3: DPM 5893

Kitsize: 2.25 gallon kit

MFG PN#: 833K086

MFG: PPG Aerospace

Product Description: Integral Fuel Tank Coating

QTY in Stock: 50

Weight: 18 lbs

Color: Yellow

Spec 1: AMS-C-27725 Type II

Spec 2: DHMS C4.06 Type I Cl A Gr B

Spec 3: DMS 1850, Type I, III, IV, V

Kitsize: 1.5 gallon kit

MFG PN#: SPEEAY051A

MFG: PPG Aerospace

Product Description: Mil-Spec Epoxy Primer

QTY in Stock: 25

Weight: 16 lbs

Color: Yellow

Spec 1: Mil-PRF-23377K, Type I, Class C2

Kitsize: 1 gallon kit

MFG PN#: SPEWDE102

MFG: PPG Aerospace

Product Description: Mil-Spec Epoxy Primer

QTY in Stock: 10

Weight: 16 lbs

Color: Dark Green

Spec 1: Mil-PRF-85582E, Type II, Class C2

Kitsize: 1.25 gallon kit